Zoltar the Fortune Teller and I locked eyes in the Ruby Cave Visitor's Center near Chattanooga, Tennessee of all places. Swathed in satin and the scent of mildew, he beckoned me. I had no idea he'd send a message so insanely directed at me and what I was wrestling with. Come on…his fortunes have perforated ends. Are torn off a roll. No magic here, yet how could it not be a sign? How many people could vaguely relate to the fortune he spit out to me?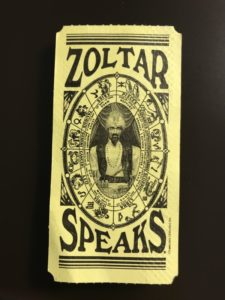 I was three-quarters of the way through writing LEAVING YOU…for me, when I said goodbye to my first fling at the Atlanta airport and intercepted my girlfriend, Jo, for a girl's trip we dubbed "Goin' South". The trip that ended in disastrous text-sexts—dragon's breath, a hotel room trash can overflowing with empties, and memory gaps for both of us. Stupid cell phones recorded it though. Mine flashed the instant I woke it up. I wasn't rude. I just unplugged it…then there it was, right on the home screen. I wrote about it in the book…not repeating it here except to say one should never thump the heel of their hand against their forehead in a moment like that.
So, back to Ruby Cave and Zoltar as he drew me in.
"Seriously?" Jo mocked before her famous, "what the hell," as we rummaged in our purses for loose quarters. She went first and got a generic fortune about sunbeams, shadows and spring rain.
Mine was different.
From the first chapter I wrote (now Chapter 8 in the book) I've wrestled with what in the hell I was doing. Breaking the silence for sure, but could I seriously publish something so intimately personal? I was blurting out dangers to us in the current dating world of digital sites, date rape drugs, and years of damage to our self-esteem clamoring for validation and renewal. I wanted to be real and open about the fears and was then compelled to be as honest about the passion, about laughter and life beyond a dysfunctional relationship, too. I'm not stalling, I needed to explain what I was writing…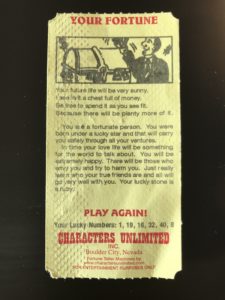 and wrestling with when Zoltar fed out my fortune that day. Check out the first line of the last paragraph.
"In time your love life will be something for the world to talk about." Really? Stranger things have happened to me, but not many with such perfect timing. I decided to take it as a sign…kept writing and yesterday, LEAVING YOU…for me was published in paperback and Kindle, online…double gulp. I'm exhilarated and terrified in the same instant. I fished my Zoltar Fortune out of my passport where I'd stashed it. If revealing this much of myself, to help others or not, goes south, I figured my passport would be a handy thing to keep on hand. LOL